Kvízünkben arra vagyunk kíváncsiak, vajon tudod-e mit jelentenek a az alábbi szólások, mondások? Mindezt csupa kutyás témában, a kutya fáját neki!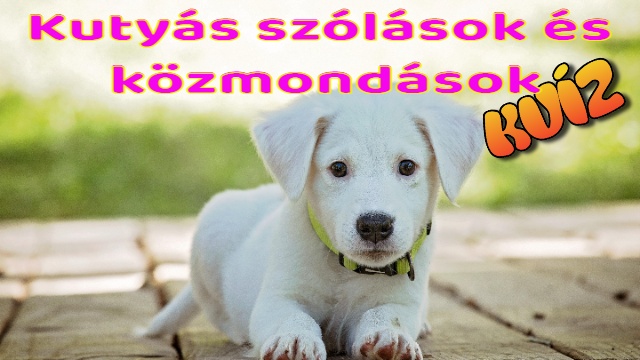 Készen állsz?
Egyformán rossz mindkettő. Hogy mondod másképp?
Mi a jelentése? A kutya ugat, a karaván halad.
A kutyafáját neki! De mi a kutya fája?
Falra hányt borsó. Hogy mondjuk ugyanezt kutyás szólással?
Ki az író? Morzsa kutyánk, hegyezd füled, Hadd beszélek mostan veled, Régi cseléd vagy a háznál, Mindig emberűl szolgáltál,
Fejezd be a mondást! Olyan rossz idő van … ...
Be tudod fejezni? A kutya is haragszik ha … ...
Fejezd be a szólást. Bánja mint a kutya … ...
Mit jelent a Kutyának se való kifejezés?
Mi a vers címe, amiből az idézet van? "Ajtó előtt hasal egy kiszolgált kutya, Küszöbre a lábát, erre állát nyújtja."
Kvíz: Szólások, közmondások, mindenfélék kutya témában. Vajon ismered mind?
Jöhet a következő?