Muhammad Ali neve sokak számára ismerősen csenghet, még azoknak is, akik különösebben nem rajonganak a küzdősportokért. A háromszoros nehézsúlyú világbajnok, pályafutása során olyan ellenfelekkel mérhette össze erejét, akárcsak George Foreman, Joe Frazier, Ken Korton, Leon Spinks – és Superman.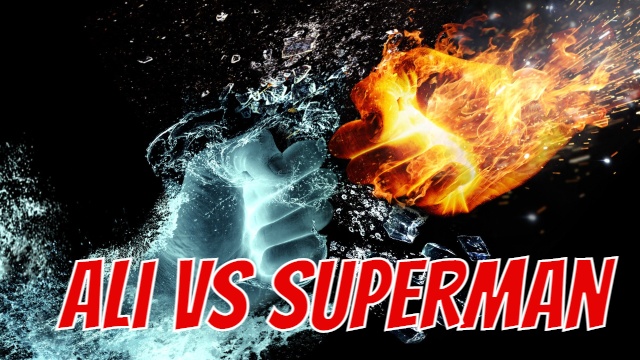 A Superman vs. Muhammad Ali nevet viselő képregényt 1978 tavaszán dobta piacra a DC Comics képregénykiadó. A remekmű egyébként az All-New Collectors' Edition sorozatának egy része volt. Terjedelmét tekintve nem éppen vékonyra sikeredett, hiszen a maga 72 oldalával pont olyan hatalmas, mint amilyenek Ali sikerei voltak.   
Borítóját Neal Adams tervezte, ami már önmagában is megkapó lett: az üdvrivalgó nézőközönség között ugyanis nemcsak civil embereket vélhetünk felfedezni, de a The Jackson 5 és a The Osmonds együttes tagjait, Ron Howard filmrendezőt, vagy Gerald Ford, Jimmy Carter, az Amerikai Egyesült Államok korábbi elnökeit is.
A képregény sztorija szerint az idegenek harcra hívták a Földet. Rat'Lar vezér ugyanis úgy vélte, hogy a földiek viselkedése potenciális veszélyt jelentett az idegenlégiósok népére. Elrendelte, hogy a Föld legnagyobb versenyzője küzdjön meg a legerősebb Scrubb-harcossal, így eldőlhet, hogy ki lesz a Föld bajnoka. Az ütközetben pedig nem más, mint Ali és Superman akasztotta össze a bajszát, hiszen ők gondolták magukat a legrátermettebb önkéntesnek. A verseny kimenetét illetően mindenki nyugodtan dőlt hátra, hiszen egyértelmű volt, hogy Superman fog győzedelmeskedni. "Lassan a testtel!" – mondta azonban Ali.
Érdekesség a dologban, hogy Ali azzal érvelt, hogy Superman tisztességtelen fölénnyel indul a szuperképessége miatt. Éppen ezért, a meccset a Bodace-en rendezték, amely egy olyan vörös csillag körül keringett, ahol Superman ereje átmenetileg nem működött. A küzdelem igazságossá tétele érdekében tehát, Superman természetfeletti képességek nélkül mérettette meg magát – és szenvedett végül csúnya vereséget: ugyanúgy kórházba szállították, mint ahogy Alit még 1971-ben, Fraizer ökölcsapása után. A történet pedig úgy zárult, hogy Superman felépült, Scrubb-vezér pedig békét kötött Alival, és az egész Földdel.