Kvíz: Meg tudod állapítani ezekről az érdekes állításokról, hogy igazak, vagy hamisak-e?
Töltsd ki a kvízt és megtudod, hogy igaz-e: Izlandon tilos kiskedvencként kutyát tartani, vagy hogy egy ikerpár képes 87 nap eltéréssel megszületni? Lássuk, be tudunk-e húzni a csőbe, vagy jól válaszolsz mindenre?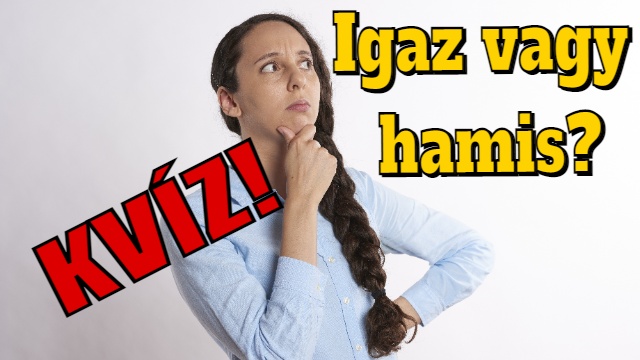 Készen állsz?
Csak a nőstény szúnyogok szívnak vért.
A Jupiteren és a Szaturnuszon gyémánt eső esik.
Egyszer az Apple elindította a ruházati termékekkel foglalkozó ágát.
1986-ban Steve Jobs a ruhaiparba is be szeretett volna törni, így elindította a ruházati termékeit, nem sok sikerrel.
Izlandon tilos a kutyák házi kedvencként tartása.
Mi, emberek, a DNS-ünk 70%-án osztozunk a banánnal.
Csak 50%-ban vagyunk banánok.
Franciaországban össze lehet házasodni egy elhunyt személlyel is.
Franciaországban a posztumusz házasság törvényes, de több köztisztviselőnek és az elhunyt családjának is jóvá kell hagynia. A lehetőséget eredetileg a II. Világháborúban elhunyt katonák miatt adták meg, 1950-től azonban a civilek számára is engedélyezett.
Az ikrek születése közötti leghosszabb időre beállított Guinness-rekord 87 nap.
Amy Elliott 3 hónappal korábban született mint testvére Mary. Az édesanyjuk összehúzódásai Amy születése után egyszerűen leálltak és mivel Mary továbbra is egészséges volt az édesanyja hasában az orvosok úgy döntöttek ő bent marad ameddig csak lehetséges.
A "kutyaeledel-kóstoló" valódi munkakör.
A statisztikák szerint a jobbkezesek tovább élnek, mint a balkezesek.
Az 1830-as években a ketchupot gyógyszerként árusították és használták.
Láttad már a napi feladatainkat? Játssz velünk, és teszteld le a tudásod matekból, irodalomból, filmekből és még rengeteg egyéb témából egy-egy gyors kérdéssel.