Tudáspróba kvíz: Tedd próbára a tudásod ezzel az igaz, vagy hamis teszttel! Lássuk, hogy sikerül?
Tudod, ki találta fel a léghajót, vagy mikor vezették be az antiszeptikumokat? Kvízünkkel most letesztelheted mennyire sokrétű a tudásod. Lássuk, hogy sikerül?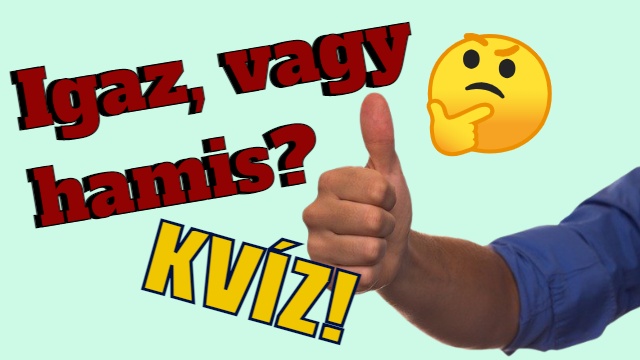 Az antiszeptikus sebészeti eljárásokat 1865-ben fedezte fel és vezette be Joseph Lister.
A mezoszféra a Föld légkörének legalacsonyabb szintje.
A troposzféra található a legalacsonyabban.
Diana walesi hercegnőt minden idők legnagyobb britjének választották.
Winston Churchill lett minden idők legnagyobb britje.
Dél-Amerika nagyobb, mint az Antarktisz.
A Merkúr légköre teljes egészében szén-dioxidból áll.
A Merkúrnak nincs légköre.
Ferdinand Von Zeppelin 1900-ban találta fel a léghajót.
A Stockholm-szindróma egy belsőfül-betegség, amelyet fülzúgás és szédülés jellemez.
Az Ausztrália név jelentése: Délvidék.
Az "Allegro" zenei utasítás azt jelenti, hogy gyors, élénk.
Pécs ókori római neve Savaria volt.
Igaz vagy hamis tudáspróba